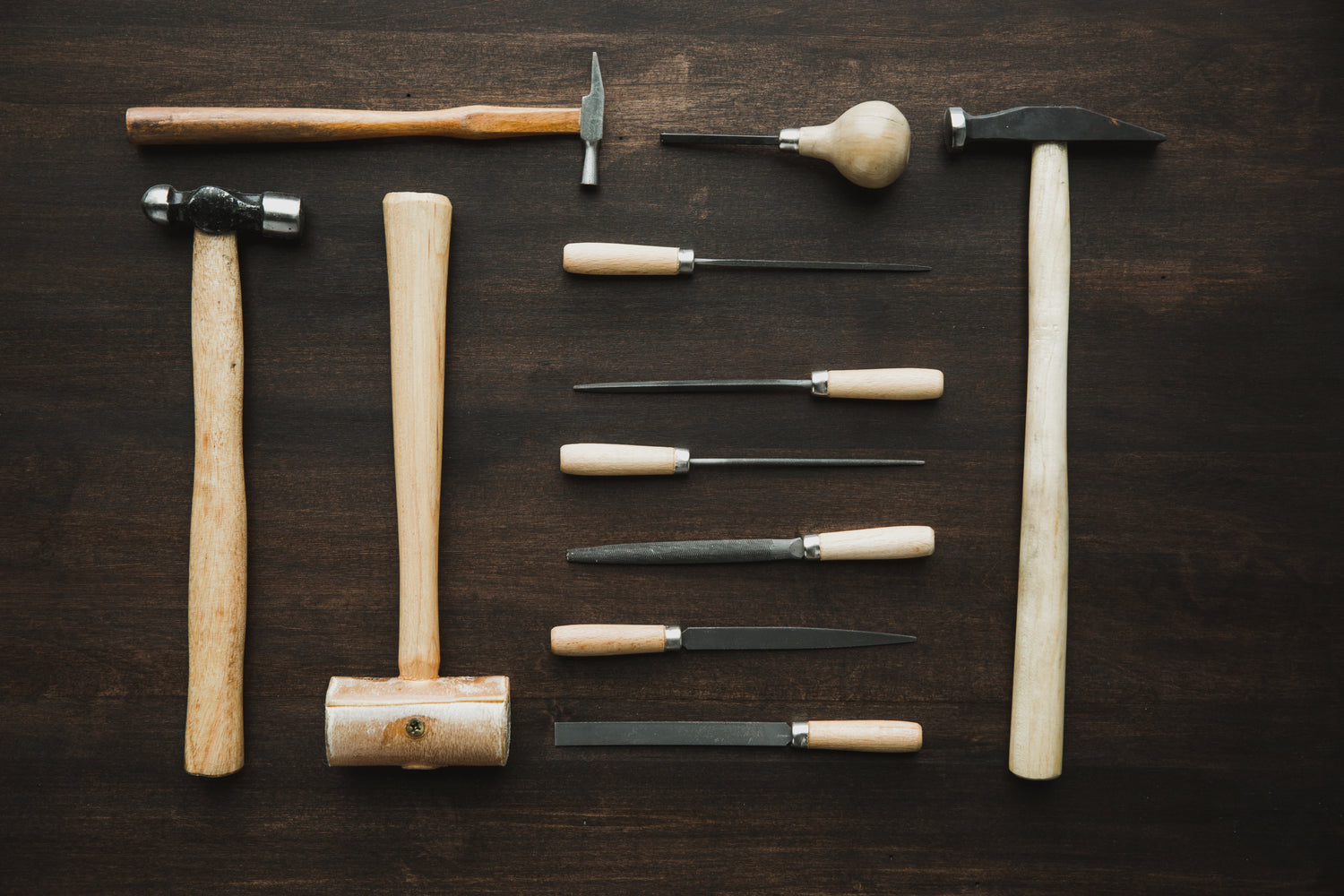 FAQs
We've tried to provide answers to our most frequently asked questions here, but if you don't find what you're looking for please contact us at mail@thorpeandbrown.co.uk
1) What is bespoke?
At Thorpe & Brown bespoke means beginning with an initial design, offering our knowledge and expertise to inspire confidence in hand-crafting a design that is truly yours. Your personal jeweller. 
2) How do I find out my ring size?
Visiting our showroom and enabling us to measure your finger professionally is by far the best way to determine your ring size accurately. If you are unable to do this however, please feel free to use our sizing chart as the next best option. 
3) Can my ring be resized?
A plain precious metal band can usually be resized. However a stone-set ring is more tricky. If your ring is stone-set and you are able to visit our showroom, please do so with your ring so that we can advise whether a resize is possible. For further information please either visit our showroom or contact us via telephone. 
4) Do you have all your products listed online and instore?
Yes, we have all of the beautiful pieces you see in the showroom online to make it even easier for you to select the perfect piece of jewellery at the click of a finger! However, for custom made pieces it is best to pop into the showroom or contact us via telephone so we can further advise.
5) Can I return my order?
If you are not happy with your Thorpe & Brown jewellery, or if somebody has chosen the wrong piece of jewellery for you, it can be returned provided it is unworn and not scratched or damaged. Due to hygiene reasons, earrings cannot be returned or exchanged. All goods can be returned to us within 14 days of purchase and online orders must be returned in the original packaging at your own cost. If you are posting the items back to us, we recommend using a secure, trackable method and insure the item as we will not be liable for the item lost in transit. 
6) How do I care for my Jewellery?
To ensure the longevity of your jewellery, we would recommend you avoid wearing your jewellery when participating in sports, sleeping or swimming. Avoid applying creams or make-up or spraying perfume onto your jewellery as this can discolour precious metals, including silver. Household chemicals and bleaches are also to be avoided. To prevent mis-shaping we would recommend storing your jewellery carefully, laying jewellery flat or hanging chains up. Refrain from running charms along chains or bangles as this will wear away the silver. If your jewellery is looking a little dull, you can purchase a microfibre Jewellery cleaning cloth over the counter. Alternatively pop into the showroom with your jewellery where we can clean and polish it for you to bring back the sparkle!  
7) Do Thorpe & Brown do repairs?
At Thorpe & Brown, no job is too small. From chain repairs to ring resizing and cleaning and polishing, we endeavour to repair your loved but unworn jewellery because we believe jewellery is for wearing! If you are able to visit our showroom, please do so with your jewellery so one of our expert staff can advise further on the nature of the repair. For further information please contact us via telephone or email. 
8) How do I care for a clean my jewellery? (Answer covered in question 6)
9) How do I contact Thorpe & Brown? 
If you do have an enquiries or a jewellery related emergency, one of our friendly team is always happy to help! You can pop into our showroom any time Tuesday - Saturday from 9:30-5pm. Contact us via telephone on 01455 635088. Email us, mail@thorpeandbrown.co.uk 
10) Can my item be personalised and engraved? 
From traditional engraving, to fingerprints and your own handwriting, we provide a professional engraving service. Using diamond cutting machinery we can add almost any design to your jewellery, patterns such as grooves and beading. Contact us for further information. Please note that items that have been personalised cannot be returned. 
11) My gold plated items are wearing off - what can I do?
All of the gold plated pieces sold at Thorpe & Brown are handcrafted in sterling silver and finished with a layer of gold plating. Please note that as this is only a thin layer of gold deposited to the surface, therefore we do not advise you wear plated rings or bracelets every day due to increased rate of wear and tear. Gold plated earrings and necklaces are fine to wear more regularly. However, if you should notice that the plating is wearing off at an excessive rate please bring the jewellery back into our showroom. 
12) Can you value a piece of my jewellery?
With over 15 years experience in valuing jewellery, we offer a full valuation service, providing valuations for single items, or schedules for multiple pieces. Each come with full details and photographs to give your insurer and up to date information and you, piece of mind!ou peace o
13) What does it mean to have your rings polished rather than cleaned?
The difference between a quick clean and a full polish is quite substantial! Jewellery cleaning brings back the sparkle to dull diamonds and gemstones making the ring appear shiny on the surface. Whereas, a complete buff and polish removes any scratches - obtained from general wear and tear - to leave a ring that looks brand new! 
14) What is the difference between White Gold and Platinum? And how do I choose a Diamond?
We've put together some information on precious metals, diamonds & gemstones here
15) Do you ship internationally?
Yes, we ship internationally! Contact us for further information about postage costs and delivery.  
16) Can I order by telephone?
At Thorpe & Brown you can order exactly as you'd like to and if this is over the telephone then one of our friendly staff are on call to help assist in making this possible. To place an order via telephone call, 01455 635088. 
17) Does my jewellery come with a guarantee?
All purchases come with a 12 month warranty. During the warranty period of 12 months from date of purchase, we will repair or replace (at no charge) any item that proves defective because of improper material or workmanship under normal use and care.
18) How do I buy or redeem a voucher?
Vouchers can be purchased online and redeemed by visiting our showroom. Thorpe & Brown vouchers can be used against any of the gorgeous pieces we showcase in store, our staff are always happy to assist you in selecting the perfect piece of jewellery. Alternatively, vouchers can be used to offset against the price of a workshop. 
19) How do I book onto a workshop? 
It is easy to book onto any of our workshops online via our website, whether it be ring making, bangle making, saw piercing or our unique wedding ring experience. If you are experiencing any difficulties with regards to booking, please give us a call where one of our friendly staff can advise you of our workshop availability, and sort out dietary requirements. Please note, if there are less than three people to any one workshop we will have to reschedule the date. (We find that a fuller workshop has a lovely atmosphere).
20) I've earned points on my purchases, how do I redeem them?
Points earned are redeemable on all our ready to wear products. Once you have over 100 points, simply click on the rewards icon on our home page, select ways to redeem and follow the instructions. The discount will automatically be applied at the checkout against eligible items.   
21) Are our Diamonds Ethically sourced?
Yes - our Diamonds are all purchased from legitimate sources, that are conflict free in compliance with United Nations Resolutions